Products

The IP00C821 is an enhanced multi-functional image processing device with integrated 2-channel scaler and de-interlacer cores as well as a 1-channel warping and edge-blending engine.
Dual-input images are fully independently enlarged, shrunk and de-interlaced with PiP/PoP output images.
This device has an embedded CPU, and peripherals such as LVDS Tx, video-decoder, USB, Ethernet, and SD card.
It also has other image control functions such as gamma and uniformity correction that are required for higher image quality.
The IP00C821 is an ideal device for a wide range of a high performance video applications like projectors, and monitors.
Image transition demo movie
This is a demo video that realizes the image transition function using the image blending algorithm.
Applicable products:
IP00C733A / IP00C734A / IP00C755 / IP00C821 / IP00C331 / IP00C814
Demo movie
2K/FHD PinP + Warping by CPU Control Demonstration
Input(2-port)
RGB 30bit / YUV 4:4:4 30bit / YUV 4:2:2 20bit / YUV 4:2:2 10bit(BT656) 166MHz LV-CMOS(2-port) supporting dual (EVEN/ODD) and DDR inputs

Analog input:CVBS(NTSC, PAL, SECAM)
Output (1-port)
RGB 30bit / YUV4:4:4 30bit / YUV4:2:2 20bit / YUV4:2:2 10bit (BT656) 166MHz high speed LVDS/83MHz x2 LVDS
Input & Output Image Size
Up to 16384 pixels/line with 2048 of horizontal active video
External Memory
DDR3-SDRAM 16bit PC1600 (4G/2G/1G bit x16) x1
Input/Output Sync
Frame rate conversion

Tearing protection

External force synchronization
Video Decoder
NTSC-M, JPN, 4.43 PAL-B, D, G, H, I, CombinationM, 60, SECAM

VBI(Closed Caption/CGMS/CGMS/WSS) data extraction

Clamp pulse output
De-Interlacer
Motion adaptive filter based on Y, U, V

All major cadences supported

YUV4:2:2
Scaler
6 symbol filter with FIR filter(10 bit/pixel), embedded ROM(64sets)
Noise Reduction
3D(H,V,Temporal) / Mosquito / Block NR, chroma error filter
Bit Map OSD
256 colors/High color OSD(64K colors)

Embedded font engine(65536 words)

Blinking and semi-transparent(4 colors OSD)

90-degree rotation, OSD scroll

Serial flash to bitmap
Image Quality Control
Edge-blending (RGB independent gamma correction, white peaking, by region and per pixel correction)

Color management (full color gamma)

Uniformity correction (by region and per pixel available

Bias/Gain/Gamma correction

H/V edge enhancement (9 symbols)

Dithering for 10, 8, and 6 bits output
Image Manipulation
Warping (coordinate correction look up table, embedded warp table generator for key stone correction)

Any angle rotation (up to 45 degree rotation + 90 degree rotation)

Mirror / flip / 90-degree rotation

2-ch overlay, alpha blending, color key blending
Embedded CPU
ARM926EJ-S equivalent (ARM V5TE except for jazelle and ETM9)

Cache (16KB Instruction, 16KB data)

Work RAM (128KB)

8-bit parallel / 4-wire serial when external CPU is in use
CPU Interface
Direct connection with external parallel or serial flash / SRAM / SDRAM

Address / data width 26bit / 16bit
CPU Peripherals
Ethernet, USB2.0, SD Card

DMAC(8ch) / UART(3ch) / 12C(master/slave 3ch)

Timer(6ch) / Interruption control / IR remote control

10bit ADC(8ch, MUX) / 10bit DAC(3ch)
xvYCC/Bt.2020 are fully supported
Power Supply
Package
684-pin BGA(0.8mm pitch), 27mmx27mm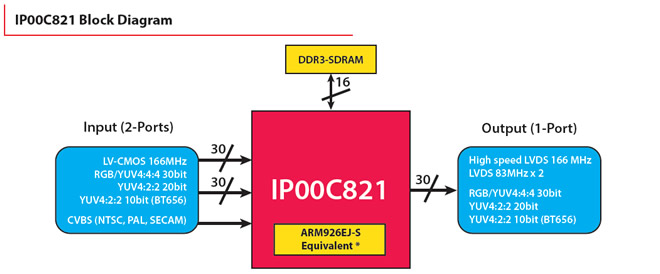 ARM926EJ-S and ETM9 are trademark of ARM Ltd, Inc.