Products

The IP00C241 is a 4K60Hz scaler LSI supporting frame-memory-less scaling up/down, high-speed serial interfaces for V-by-One®HS/LVDS Tx, and V-by-One®HS/LVDS Rx, and serial flash interfaces for configuring OSD display.
Scaling up/down with 333MHz processing is available.
Additionally, it is possible to configure the OSD screen by transferring from a serial flash.
The high image processing quality is achievable with 4K60Hz images by using this device.
It complies with both PQ and HLG standards for the "HDR" standard and can be used to develop cutting-edge high-quality products.
Input/Output(4K60Hz x3)
30-bit RGB/YUV4:4:4/ YUV4:2:0, 20-bit YUV4:2:2

@V-by-One®HS 4Gbps, 8-lane 2-port

@LVDS 160MHz x 4, FPD-Link, 1-port

Up to 4K60Hz input/output (Any path can be selected from 3-input/output)
Input/Output Image Size
Horizontal synchronization signal interval: 16,384 pixels

Effective horizontal image area: 2,176 pixels
Frame lock
Scaler
Zoom/shrink: 6-symbol LUT, Coefficient ROM (64-set)

333Mpix/sec 2ch, support 4K60Hz single image processing
Image Quality Control
Color management (full color gamma)

3DLUT (17x17x17)

Uniformity correction (by region and per-pixel)

Bias/Gain/Gamma

Edge enhancer (spatial filter)

Dithering (12 → 10, 10 → 8)
Image Correction
xvYCC/Bt-2020
HDR
SMPTE ST2084(PQ HDR10) and HLG methods supported (RGB 10-bit each)
CPU I/F
Bit map OSD
Three types of graphics can be displayed at the same time: Font (2 colors), Graphic (256 colors) and Background OSD (up to 64k colors)

Semi-transparent (up to 4 colors)

Scaling up for Background OSD (any size, 2-symbol)
Power Supply
Package
385-pin, BGA (0.8mm pitch),19mmx19mm
Block Diagram

Application Samples
[8K to 4K]

[4K to 8K]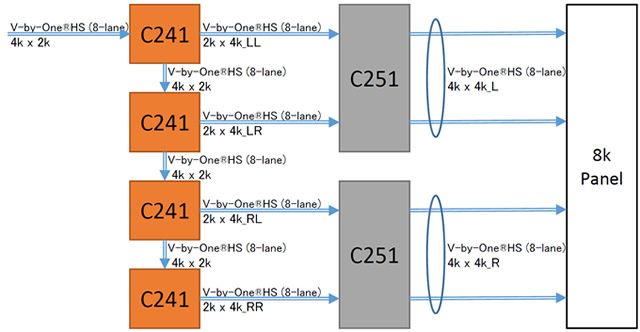 "V-by-One" is trademark of Thine Electronics, Inc.