Products

The IP00C341 is an enhanced multi-functional image processing LSI with de-interlacer, scaler, warping and edge-blending circuitry.
Up to 4K60Hz dual input images are fully independently enlarged, shrunk and de-interlaced with PiP/PoP output images.
It features an embedded warp table generator that implements real-time image processing for H and V keystone correction and pin-cushion correction.
In addition, high-performance functions such as PQ and HLG HDR systems(10-bit) and 3DLUT for color management are also integrated.
The IP00C341 is an ideal device for a wide range of high performance video applications like projectors, laser TVs, and monitors.
Image stabilizer demo movie
This is a demo video that realizes the camera shake correction (image stabilizer) function using a warping device.
Applicable products:
IP00C787 / IP00C788 / IP00C789 / IP00C381 / IP00C341 / IP00C382 / IP00C814
Input(4K60Hz, 2out of 4-port)
RGB 30bit / YUV4:4:4 30bit / YUV4:2:0 30bit / YUV4:2:2 20bit / YUV4:2:2 10bit (BT656)
@V-by-One®HS 4Gbps, 8 lane 2-port
@LV-CMOS 166MHz supporting dual(EVEN/ODD) and DDR inputs 4-port

4K60Hz input up to 2-port
Output(4K60Hz, 1-port)
RGB 30bit / YUV4:4:4 30bit / YUV4:2:2 20bit / YUV4:2:2 10bit(BT656)
@V-by-One®HS 4Gbps, 8-lane
External Memory
DDR3-SDRAM 64bit PC1600 (4G/2G/1G x16) x4
Input/Output Sync/Asynchronous Behavior
Frame rate conversion

Tearing protection

External force synchronization

Genlock
De-Interlacer
Motion adaptive filter based on Y, U, V, YUV 4:2:2

All major cadences supported

Low latency processing
Scaler
Zoom/shrink 6-symbol programable FIR filter(10bit/pixel)

Embedded ROM(64set)
Noise Reduction
3DNR(H,V,Temporal)

MPEG-NR(Mosquito/Block)

Chroma error filter
Bit Map OSD
256 colors/High color OSD(64K colors)

Embedded font engine(65536 words)

Blinking and semi-transparent(4 colors OSD)

90-degree rotation, OSD scroll

Serial flash to bitmap
Image Quality Control
Color management(full color gamma)

3DLUT(4K60Hz 2-input supported)

Uniformity correction

Bias/Gain/Gamma correction

H edge enhancement(9symbol), V edge enhancement(5 to 9symbol)

Dithering for 10 or 8 bit output
Distortion Correction Mode
RGB common distortion correction mode
Distortion Correction Method
Coordinate correction look up table

Embedded warp table generator (keystone correction and pin cushion correction)

Load from external CPU or external serial flash
Distortion Correction Amount
Up to 45 degrees(horizontal/vertical)
Image Correction
Edge-blending

Mirror/flip image

90 degree rotation

Overlay, alpha blending, color key blending
CPU Interface
8-bit parallel/4-wire serial
xvYCC/Bt.2020
HDR Standard
SMPTE ST2084(PQ) and HLG both methods supported(RGB 10-bit each)
Power Supply
Package
684-pin BGA(0.8mm pitch), 27mmx27mm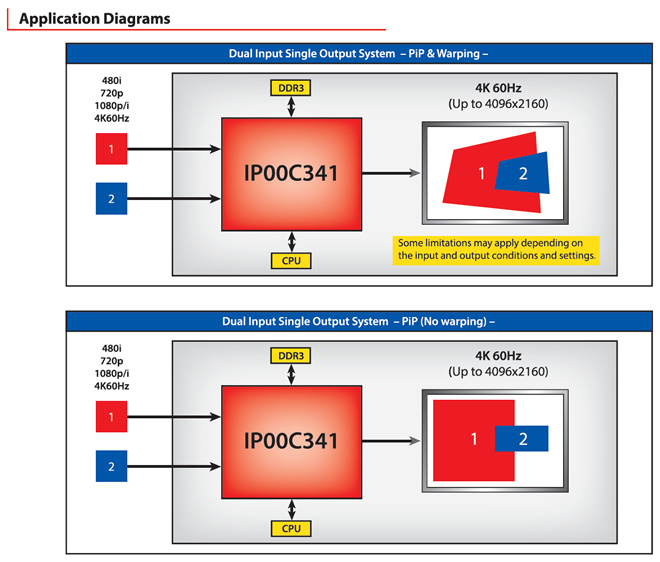 "V-by-One" is trademark of Thine Electronics, Inc.