Products

The IP00C814 is an enhanced multi-functional image processing LSI with integrated 2-channel scalers and de-interlace cores as well as a 1-channel warping engine.
It can accept 4K dual input images with 2K PiP/PoP output images and single 4K input image with 4K output image.
This device has an embedded CPU, and peripherals such as JPEG codec, HDMI Rx, high-speed ADC, video decoder, and LVDS/V-by-One®HS Tx. In addition, high-performance functions such as HDR, 3DLUT for color management and edge-blending required for multi-screen system with multiple projectors are also integrated.
Image transition demo movie
This is a demo video that realizes the image transition function using the image blending algorithm.
Applicable products:
IP00C733A / IP00C734A / IP00C755 / IP00C821 / IP00C331 / IP00C814
Image stabilizer demo movie
This is a demo video that realizes the camera shake correction (image stabilizer) function using a warping device.
Applicable products:
IP00C787 / IP00C788 / IP00C789 / IP00C381 / IP00C341 / IP00C382 / IP00C814
New Warping API Demonstration
This new warping API supports HV-Keystone,Pincushion, and Center shift cascade features.
Applicable products: IP00C814 / IP00C382 / IP00C381 / IP00C788 / IP00C789
Input (2-port)
RGB 30bit / YUV 4:4:4 30bit / YUV 4:2:2 20bit / YUV 4:2:2 10bit / YUV 4:2:0 30bit

HDMI (2-port) / LV-CMOS (2-port) / Analog RGB / CVBS
Output(2-port)
RGB 30bit / YUV4:4:4 30bit / YUV4:2:2 20bit / YUV4:2:2 10bit / YUV4:2:0 30bit


Dual LVDS (2-port) / V-by-One®HS
Input & Output Image Size
Horizontal sync signal 16,384 pixels

Horizontal image active area 2,176 pixels
External DDR3-SDRAM
Scaler frame memory : 32bit PC1600 (4G / 2G / 1G x 16) x 2

ARM® main memory : 16bit PC1600 (4G / 2G / 1G x 16) x 1
External / Internal Sync
Output sync signal is available only with internal sync signal
Input/Output Sync/Asynchronous Behavior
Frame rate conversion with frame tear protection

External force synchronization

Genlock
HDMI Rx
Compliant with HDMI 2.0b and HDCP2.3 (support DVI1.0)

Embedded HDCP Key

Audio interface supports L-PCM and Compressed audio data
High-speed ADC
Maximum operating frequency 165Mhz

Hsync/Vsync separate input supported

Clock phase adjustment 32steps

Sync on Green input supported
Video Decoder
NTSC-M, JPN, 4.43 / PAL-B, D, G, H, I, N, M, CombinationN, 60 /SECAM

VBI (Closed Caption / CGMS / WSS) data extraction

Clamp pulse output
Embedded CPU
Arm Cortex®-A9 (660MHz)

Cache L1: 32KB Instruction 32KB Data L2: 128KB

Boot Serial flash / eMMC / EEPROM(I2C Ch4) selectable

Work RAM 128KB

8-bit parallel / 4-wire serial when external CPU is in use
CPU peripherals
Ethernet(10/100/1000Mbps), USB2.0 (Host/Device 2ch), SD Card, eMMC

JPEG Codec

DMA (8ch) / UART (5ch) / I2C (4ch) / Timer (4ch) / IR remote control (3ch) / 10bit ADC (8ch, MUX) / 10bit DAC ( 3ch)
External Interface
External interrupt (4ch)

Serial flash interface
Motion Adaptive De-interlacer
YUV4:2:2

All major cadences supported

Motion adaptive filter based on Y,U,V
Scaler
Zoom/shrink 6-symbol programable FIR filter(10bit / pixel)

Embedded coefficient ROM(64set)
Distortion Correction
RGB independent distortion correction

Coordinate correction look up table

Embedded warp table generator
(keystone correction and pin cushion correction)

Load from external CPU or external serial flash

Up to 45 degrees (horizontal / vertical)
Noise Reduction
3DNR(H,V,Temporal)

MPEG-NR(Mosquito, Block)

Chroma error filter
Image Correction
Edge-blending
( RGB independent gamma correction, white peaking supported )

Mirror / flip image, 90 degree rotation

Overlay, Alpha blending, Color key blending
Image Quality Control
3DLUT

Static HDR (PQ, HLG), Dynamic HDR (SMTPE2094-10,40)

H/V edge enhancement (9 symbols)

16-bit color gamma correction tables (7 LUT available)

Error diffusion, brightness and contrast adjustment
Bitmap OSD
256 colors/High color OSD(64K colors)

Embedded font engine(65536 words)

Blinking and semi-transparent(4 colors OSD)

90-degree rotation, OSD scroll

Bitmap transfer from external serial flash
Power Supply
Package
840-pin BGA(0.8mm pitch), 31mmx31mm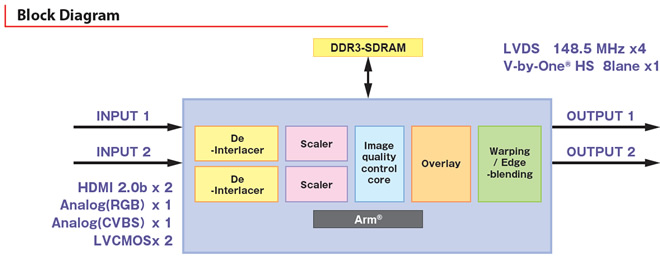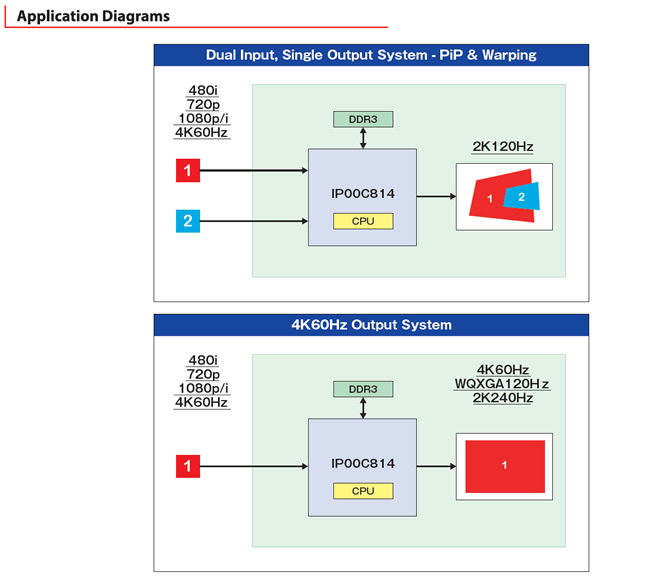 "V-by-One" is trademark of Thine Electronics, Inc.
"Arm","Cortex" are trademark of ARM Ltd.